Almost daily, the news bears a story about sexual forays of "family values" activist and former reality TV star Josh Duggar. But standing silently by his side and gazing at him in adoration is his oft-forgotten wife, Anna.
On Wednesday, it was reported that Josh Duggar
entered a treatment facility
while on Tuesday, the couple was apparently
hiding out
with their small children in an Arkansas mountain home. It's unclear whether Anna has been left alone after news of her husband's infidelity broke.
Citing an unnamed source,
People Magazine implies
that divorce is unlikely, because Anna, whose maiden name is Keller, was raised by a Christian family "more extreme" than the Duggars. She is one of eight siblings.
"Anna and her siblings were always taught that if you follow these 10 steps or whatever, God would bless you," the source told People.
Anna reportedly met Josh at a homeschooling convention in 2006, when she was still a teenager. But her family structure was so stringent, she wouldn't have been allowed to gossip about her love interest with her siblings. The children were not allowed to talk about their feelings among themselves, People reports.
"They always got 15-minute, one-on-one sessions with their mom every week. That was the time to share their feelings, but other than that they had to keep their feelings to themselves," the source told the gossip magazine.
Once full of spunk, the source said Anna has become isolated and soft-spoken since marrying into the Duggar family.
In May, In Touch Weekly revealed Josh had molested five underage girls, including his sisters. This month, Gawker revealed he had two paid accounts with Ashley Madison, a website created for the purpose of infidelity. This week, porn actress
Danica Dillon
claimed Duggar had paid her for sex while Anna was pregnant.
The Duggar family had actively campaigned against LGBT rights while promoting the idea that the "traditional family values" they lived by were morally superior.
Anna's brother, Daniel Keller, has blasted Duggar and
offered to go get his sister
and let her stay with him with her children. She has not publicly responded to his offer.
Here are a few comments:
Josh was screwing around with a porn actress. Anna best get herself tested for sexually-transmitted diseases. Of course, it's unlikely she will -- the Duggars will just pray away the STD's Josh brought home.
I give Anna 5 years at which point she will either (a) take a butcher knife to Josh in his sleep, or, (b) swallow a huge bottle of pills and take herself out.
MEANWHILE -- all Josh needs is a little more prayer.
Just need a little more Jesus that's all.
Gawker
has the goods:
Earlier today, the Duggar family confirmed that Josh has been locked away in a "long-term treatment center," ostensibly for his self-described porn and sex addiction. And the most likely candidate by far is the Christian-based, North Love Baptist Church-affiliated Reformers Unanimous recovery center.

A place that's little more than a glorified, bible-based labor camp. Should this indeed be Josh's home for the coming months, he just paid $7,500 to study the Bible and work for free for the next six months. Not at all unlike the time he spent at the facility that supposedly "cured" him of the perversions that caused him to molest five young girls in his teens.
(At the bottom of the post Gawker was able to affirm that this was indeed where Josh was headed.)
Gawker located this rather troubling introduction to the program from Benjamin Burks, the programs "International Director."
If you skip to the 6:50 mark you will see a guy in a lab coat, claiming to be a doctor, who craps all over the medical profession and
says this
:
In my medical opinion Reformers Unanimous has been so successful because it deals with the core of the problem in addiction. In medicine today we have dismal success rates unfortunately because most in the medical profession are only dealing with parts of the individual. They are dealing with the physical, they're dealing with the psychological, but they are forgetting the spiritual.
Yeah I think I want to see that guy's license to practice medicine.
The whole program is broken down into very strict schedule of prayer, eating, prayer, working, prayer, sleeping, and of course prayer.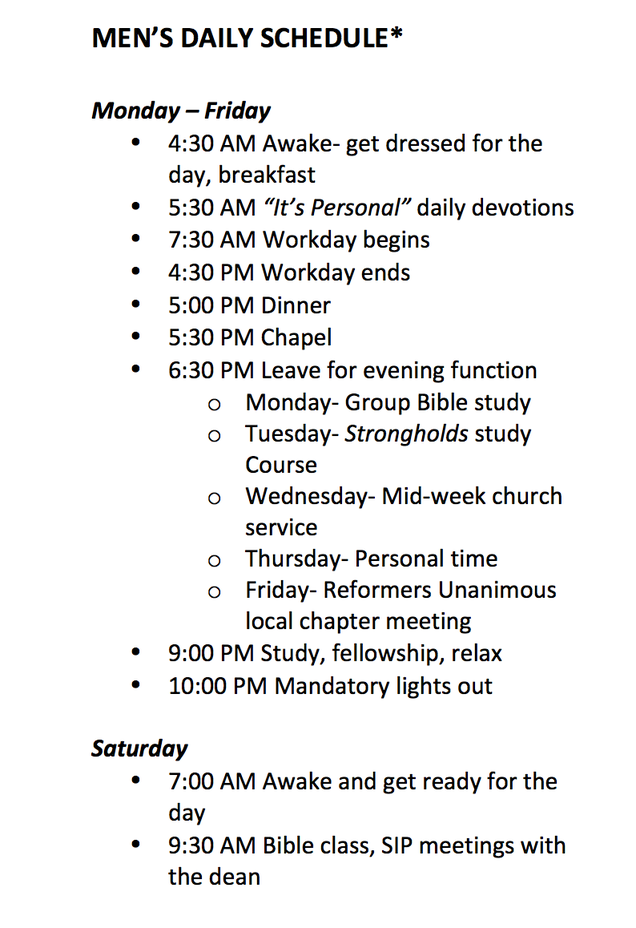 Just in case anybody confuses the program with an actual medically approved rehabilitation program there is this disclaimer.

No doctor on site, no doctor insight, and apparently no doctor in sight of the facility.
In other words there is NOTHING here that is going to help Josh Duggar with what is turning out to be a rather powerful sexual dysfunction.
So by a show of hands, how many of you are surprised?
As with everything else touched by, operated by, and believed in by biblethumpers, THIS IS BULLSHIT.